F-22 Raptor
F-22 Raptor (official designation: F-22A) is a single-seat, twin-engine, stealth fifth-generation air superiority fighter developed by Lochheed Martin and Boeing for the United States Air Force (USAF).
Lockheed Martin's F-22A Raptor is considered to be the most capable fighter aircraft in the world in active service.
The F-22 Raptor is the result of the Advanced Tactical Fighter (ATF) program, a USAF program for the development of a next generation air superiority fighter.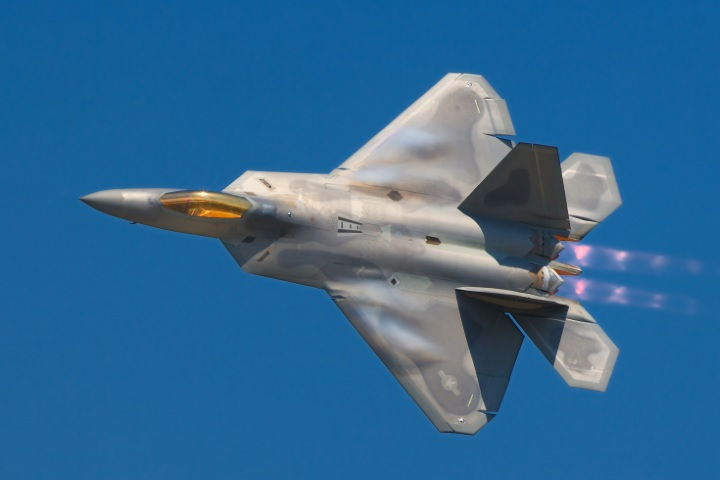 The Advanced Tactical Fighter (ATF) was initiated in June 1981, when the United States Air Force (USAF) issued a request for information (RFI) for a new air superiority fighter that will follow the mighty F-15 Eagle.
The new fighter had to be a revolutionary one, incorporating stealth technology, and being manufactured using light alloys and composite materials. The powerfull engine had to have the capability to maintain supercruise flight.
On 31 October 1986, Lockheed and Northrop were selected out of seven bidding companies to built prototypes. For this project, Lockheed teamed with Boeing and General Dynamics while Northrop teamed with McDonnel Douglas.
Each team developed two technology demonstrator prototypes, Lockheed building the YF-22 while Northrop the YF-23.
On 29 September 1990, the YF-22 had its maiden flight reaching a speed of Mach 1.58 in supercruise.
On 23 April 1991, the YF-22 was announed as the winner of the ATF competition. The reasons were that the Lockheeds aircraft was more maneuverable due to its thrust vectoring nozzles, and overall was less expensive and risky than its competitor. The Northrop YF-23 also had its advantages, being stealthier and faster than the Lockheeds design.
USAF planned to buy a total of 750 of the new fighters but eventually only 195 F-22 were produced between 1996 and 2011, eight of them being test aircraft.
The rest of 187 entered in operational service, the last of the jets being delivered in 2012.
The production variant, although very similar in appearance with the YF-22 , had notable differences over the technology demonstrator.
F-22 is not available for foreigh customers, being banned from export by the American Congress.
F-22A Raptor - General Data and Specifications:
Type
Fifth generation, stealth air superiority fighter
Place of Origin
United States of America
Service Period and Status
15 December 2005 - present
In active service
Manufacturer and Builders
Lockheed Martin Aeronautics
Boeing Defense, Space & Security
Program & Unit Cost
Program cost:
US$67.3 billion (as of 2010)

Unit cost:
US$150 million (flyaway cost for FY2009)
Production Period
1996–2011
Number Built
195 (8 test and 187 operational aircraft)
Related Projects
Lockheed YF-22
Lockheed Martin X-44 MANTA
Lockheed Martin FB-22
Preceded by
7 septembrie 1997
Mass / Weight
Empty weight:
43,340 lb / 19,659 kg

Gross weight:
64,840 lb / 29,411 kg

Max takeoff weight:
83,500 lb / 37,875 kg
Length
62 ft 1 in / 18.92 m
Height
16 ft 8 in / 5.08 m
Wingspan
44 ft 6 in / 13.56 m
Wing Area
840 sq ft / 78 m2
Wing Loading
77.2 lb/sq ft / 377 kg/m2
Airfoil
NACA 64A?05.92 root, NACA 64A?04.29 tip
Powerplant
2 × Pratt & Whitney F119-PW-100 augmented turbofans
Thrust
Dry thrust:
26,000 lbf (116 kN) each

Thrust with afterburner:
>35,000 lbf (156 kN) each
Fuel Capacity
18,000 lb / 8,200 kg internally
26,000 lb / 12,000 kg with two external fuel tanks
Speed
Maximum speed:
Mach 2.25 / 1,500 mph / 2,414 km/h at altitude

Supercruise:
Mach 1.82 / 1,220 mph / 1,963 km/h at altitude
Operational Range
Range:
>1,600 nmi / 1,841 mi / 2,963 km with 2 external fuel tanks

Ferry range:
1,740 nmi / 2,000 mi / 3,220 km

Combat radius:
460 nmi / 529 mi / 851 km
Service Ceiling
65,000 ft / 20,000 m
Thrust-to-Weight Ratio
1.08 (1.25 with loaded weight and 50% internal fuel)
Armament
Guns:
1 × 20 mm (0.787 in) M61A2 Vulcan 6-barrel rotary cannon, 480 rounds

Air-to-air mission loadout:
6 × AIM-120 AMRAAM
2 × AIM-9 Sidewinder

Air-to-ground mission loadout:
2 × 1,000 lb (450 kg) JDAM or 8× 250 lb (110 kg) GBU-39 Small Diameter Bombs
2 × AIM-120 AMRAAM
2 × AIM-9 Sidewinder

Hardpoints:
4 × under-wing pylon stations can be fitted to carry 600 U.S. gallon (2,270 L) drop tanks or weapons, each with a capacity of 5,000 lb (2,270 kg)